Ex-display SALE
These buildings sell extremely quickly as they're well looked after at the best discounts available. Call 01264 710888 to confirm the building is still available and ready to order.
EX-display buildings have been on display on our show site for 12-24 months, and images below are not the actual building for sale we would recommend you visit the site to look at sale buildings.
Ex-display Buildings available for immediate delivery, subject to t&c's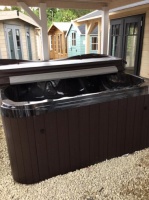 Illusion Hot Tub - Extreme Range£6,395.00
Espresso Cabinet & Cover, Midnight Canyon Shell, as shown in main picture.
Available for delivery now, price includes delivery within a 30 mile radius of show site and a starter chemical pack worth £120.00.Call 01264 710888 for delivery requirements.